Senok Air
Explore Sri Lanka in Comfort and Style
Senok Aviation (PVT) LTD is a global multinational company that has been an industry leader in commuter air services in Sri Lanka since 2011. It is part of the Senok Group of Companies which is amongst the largest and most established conglomerates in Sri Lanka. We have extensive experience in managing aviation operations in both national and international civil spheres. Our fleet includes the most luxurious Airbus H125 (AS350 b3) helicopters known for its comfort and low in-cabin noise levels so that passengers could easily converse in flight, giving you the opportunity to discuss important business even during travel.
Safety is always a top priority at Senok Air. We put strict safety procedures in place and keep our helicopters maintained to the highest standards. Our pilots are ex-military and are of the most skilled, experienced and professional in Sri Lanka, having previously flown presidential delegates and international dignitaries.
Senok Air is your best option for leisure, corporate or special operation air charters.
Senok Air
Guaranteed Excellence in Leisure Travels & Tours
Top Management – Leadership
Our leadership team is responsible for harnessing the significant resources of Senok group its know-how and the passion of its people to deliver optimal solutions for Senok customers and create growth for the business.
They lead the group in achieving its vision of being recognized as Sri Lanka's top tier business. They are responsible for upholding our values and our core beliefs – the Senok way of doing business.
Noel Selvanayagam is the President of the Senok Group. Noel's childhood passion was to become a pilot. Though unable to realise his personal dream as a child due to several constraints he never lost sight of this dream. After his 50th birthday, he decided, it was time, and went back to College to materialise this lifelong dream. He returned with a pilots license and two top of the range euro-copters.
About Our Pilots
Safe, Personalized And Professional Service
Senok Air has over 4 factory trained pilots with an average of 20 years' experience. With Ex Military discipline, background and training our pilots are highly trained and have years of experience flying over Sri Lanka's varied terrain and navigating its uniquely diverse tropical weather conditions. Due to this blend of skills and experience, they are a great source of information not only for local landmarks, but also for the operation of aircrafts in particular, providing our customers with a safe and professional service as well as a detailed knowledge of the many points of interest that can be viewed by air.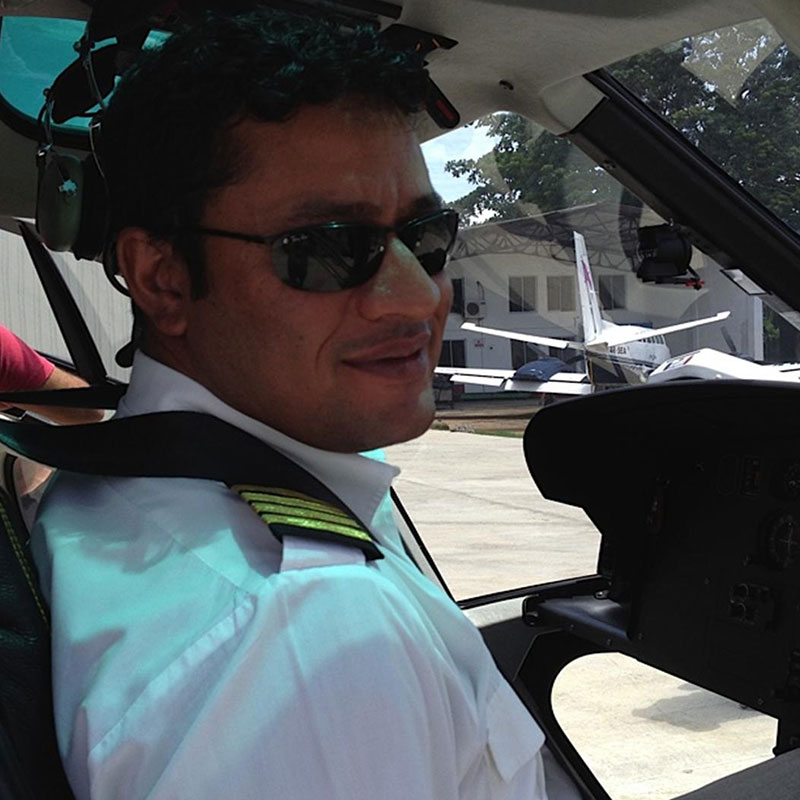 Captain Amal Wahid
Manager flight Operations / Chief Pilot
Highly trained pilot who served in the Sri Lanka Airforce for over 15 years and has the experience of over 4600 flying hours.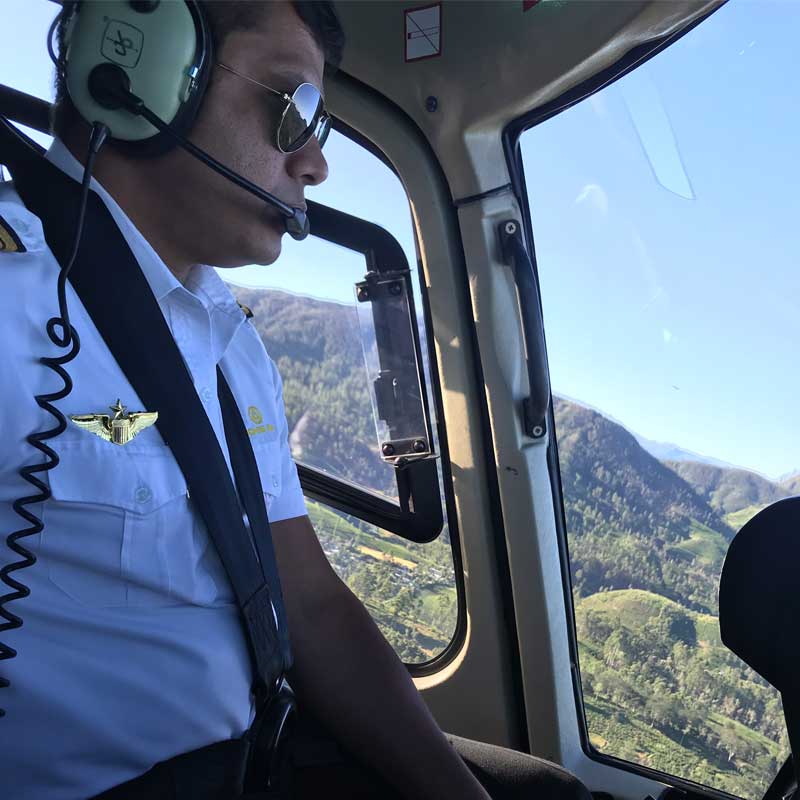 Captain Riyancy Rajapaksha
Served in the Sri Lanka Airforce for 20 years. Started as a commercial helicopter pilot in 2015 and has over 2500 hours of flying time.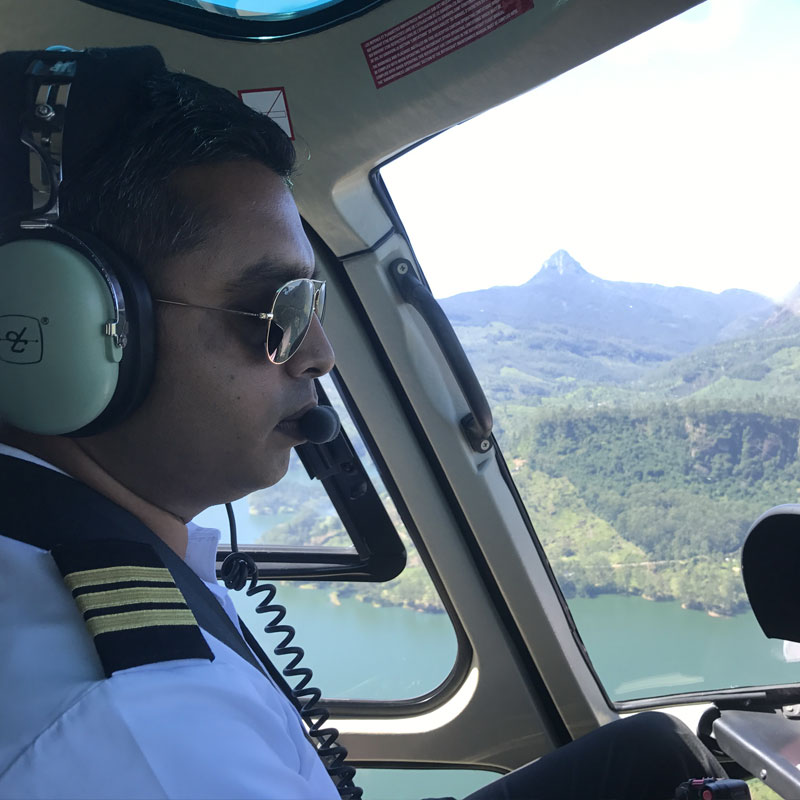 Captain Ruwan Fernando
Manager Flight Safety / Flight Operations Officer
Served in the Sri Lanka Airforce before commencing his commercial helicopter carrier in 2011 and has over 1000 flying hours.
About Our Support Staff
Dedicated, Knowledgeable and Courteous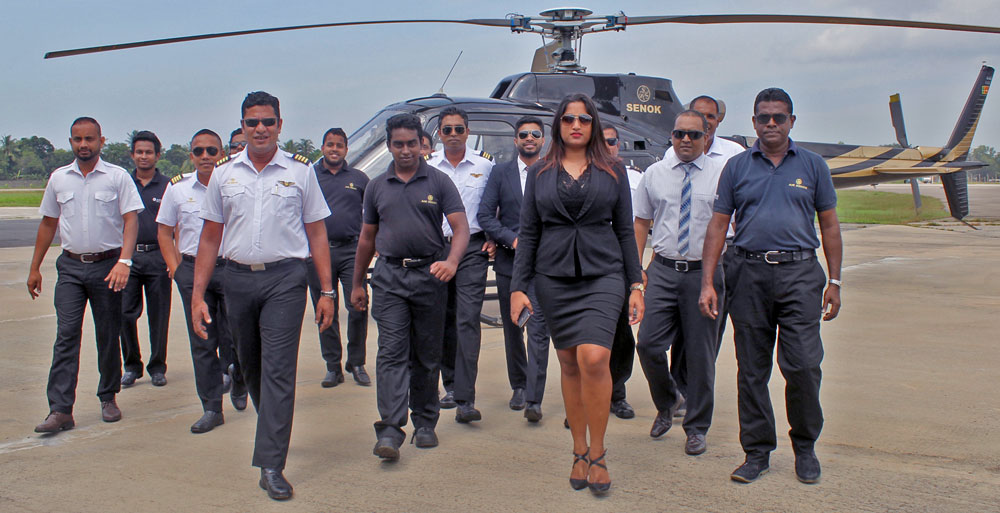 We at Senok Air, are very proud of our entire team. They have shown us time and time again their unique ability to pull together as a team to get the job done. They come to us from all walks of life and disciplines bringing to Senok Air a very diversified and varied set of skills and knowledge making them more then capable to service our customer base.
About Our Maintenance Facility & Staff
Senok Air has its own in house maintenance facility located in our new hangar at Colombo Airport Ratmalana . Our fleet is serviced there around the clock 7 days a week by our engineering team consists of highly qualified factory trained technicians that takes pride in their work in the areas of safety, reliability, and responsiveness. Our engineers and maintenance technicians, who are among the most experienced and highly trained in the aviation industry. Talent counting over 100 years of combine experience both in military and civil organizations. We bring this commitment to every task so our customers are confident they will always receive superior service.

Freelance Partners
Knowledge, expertise and experience combined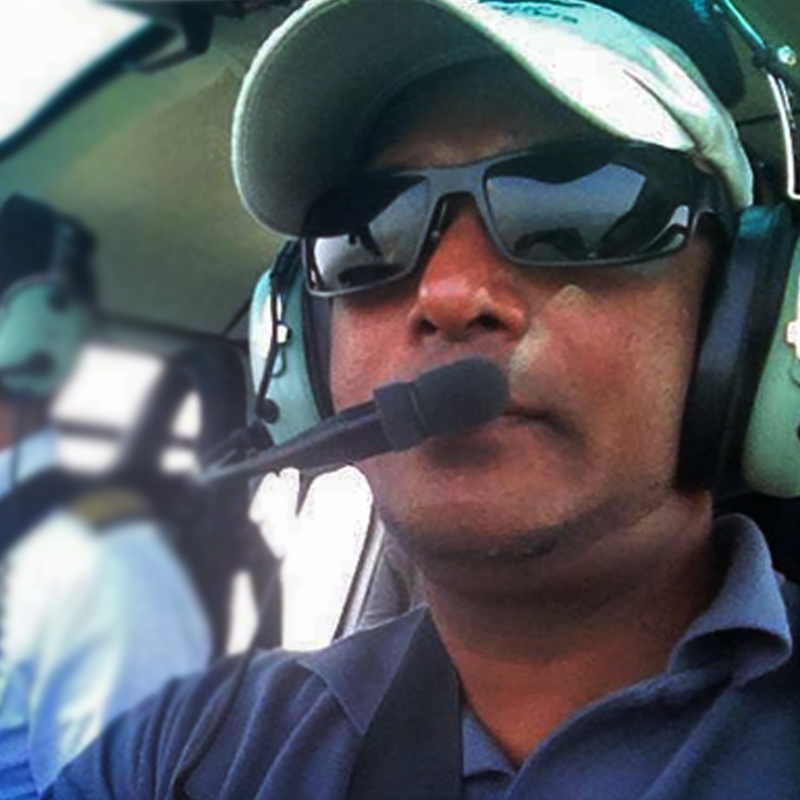 Ajith Fonseka
National Tour Guide Lecturer
A knowledgeable and motivated individual with years of experience in handling group/personal tours in several areas; has the ability to motivate different sets of audiences; has the ability to communicate effectively and possesses a high degree of energy and enthusiasm. Also known for his personality and self-motivational skills in handling VIP clientele, while going the extra mile to make a difference and to create an amazing memorable experience for everyone. The exposure received while working in UK is also an added advantage which has taken his skills to a higher level.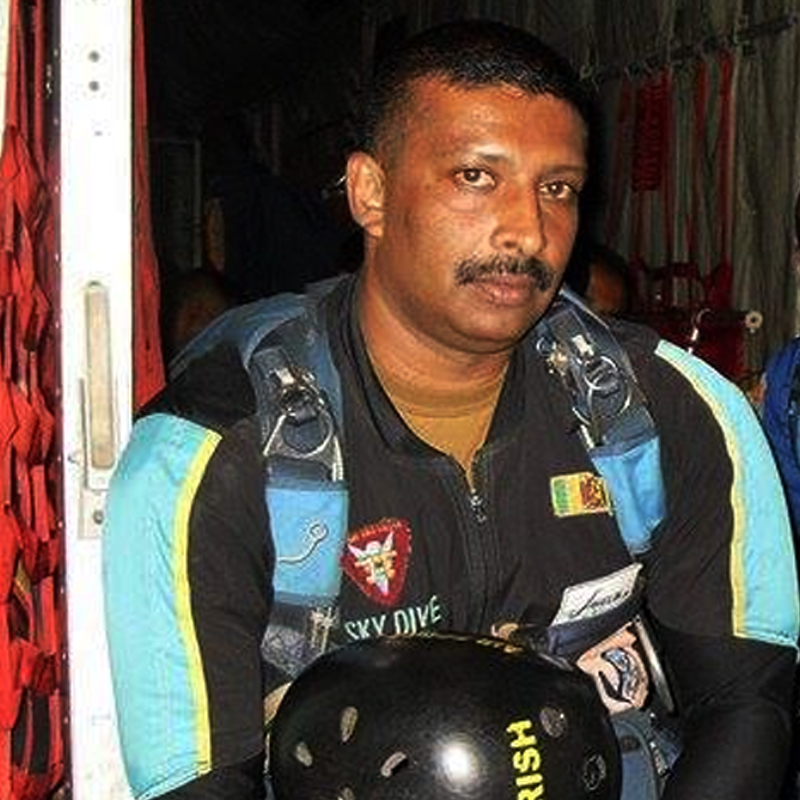 Harishchandra Herath
Former Commanding Officer of Sri Lanka Air Force
Wing Commander 'Harishchandra Herath' was former Commanding Officer of Sri Lanka Air Force Special Forces and founder of Air Force Parachute Training School. Qualified Parachute Master Rigger who holds the record of most number of Parachute Jumps in the Sri Lanka and Tandem Parachute Instructor. He specialized in Skydiving, Para Motoring, Para Gliding, Rappelling, Abseiling, Mountaineering, Scuba Diving and Fast Roping, He is the founder of silver eagle adventure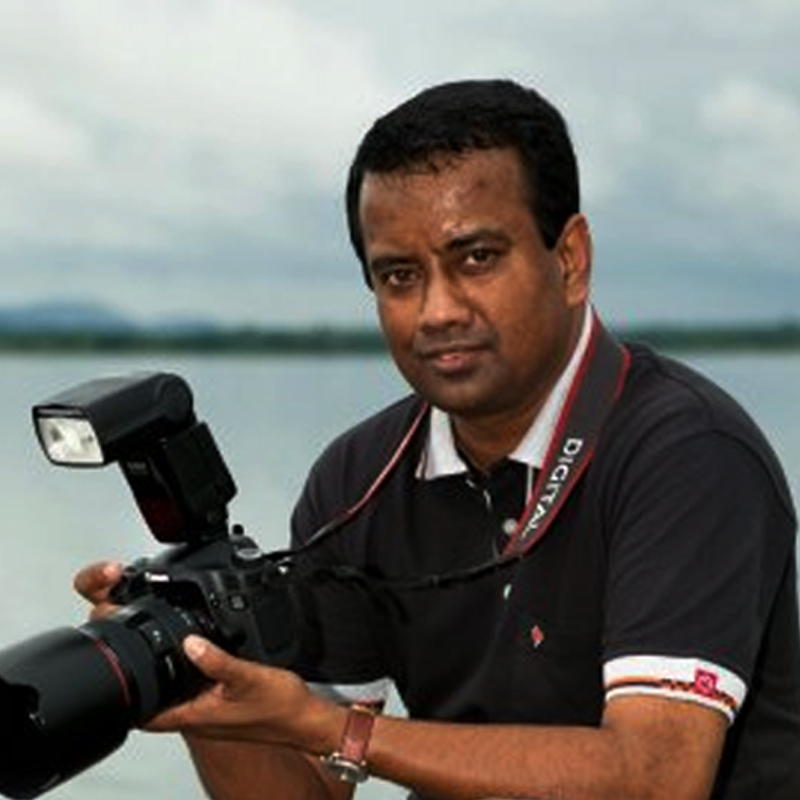 Dilum Alagiyawanna
Telecommunication Engineer
Dilum Alagiyawanna is a telecommunication engineer, a businessman in the field, turned full-time photographer / film producer specialised in Nature/Wildlife based in Colombo, Sri Lanka. With a sound background in Telecommunication Engineering and being a technology buff in general he is in a unique position in adopting state-of-the-art technology for today's world of digital photography and movie making.
Our Fleet
Luxurious Air Passenger Carriers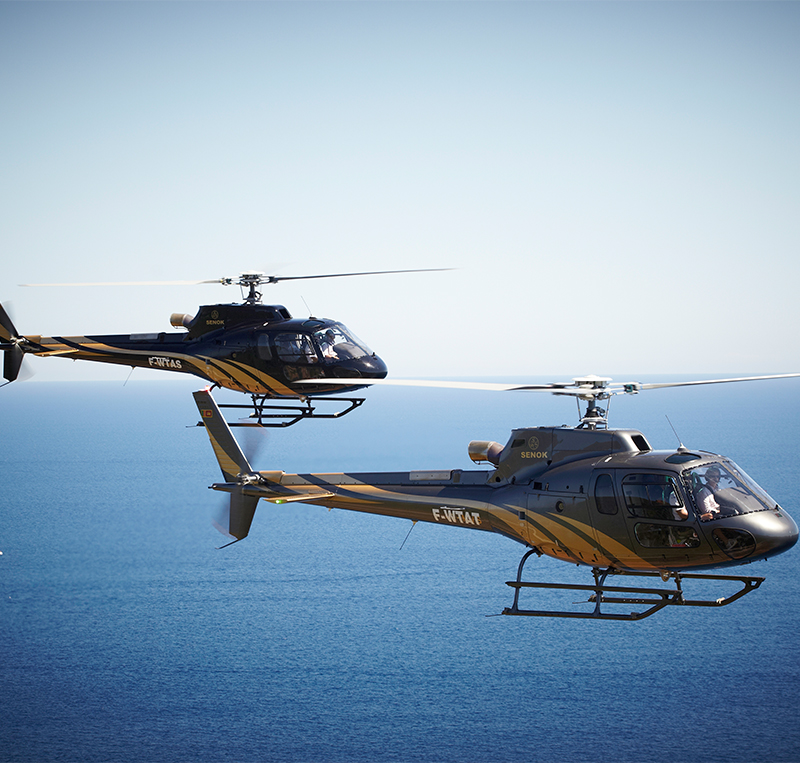 Speed: 120KTS
Range: 2hrs 45mins (approx. 425 miles)
Seating: Pilot + 5/6 passengers
Livery: V.I.P Leather interior
Air Conditioned
Make : Airbus Helicopter
Modle : H125
Country of Manufacture : France
The Airbus H125 (AS350 b3) is widely accepted as a true workhorse among helicopters. It is the Best Performance aircraft in its category. Built and Certified in France, This cost-effective helicopter accommodates five to six passengers in all forward-facing seats. High Performance, Enhanced Maneuverability and Reduced Pilot Workload makes this Airbus H125 (AS350 b3) the preferred rotary-wing aircraft for a growing number users worldwide, including Air Medical Services and Law Enforcement Agencies.
This powerful, high-performance helicopter is designed to carry out the most demanding missions in the most extreme weather and geographical conditions. Its exceptional lifting capability, high endurance, extended range and fast cruise speed makes the Airbus H125 (AS350 b3) the leader in its class.
These luxurious and spacious helicopters offer our customers the opportunity to travel or complete their aerial operation in the utmost comfort. Its flexibility makes it a very sought after helicopter capable of performing a wide range of services including passenger transportation, aerial work, observation, tourist flights and furthermore, its wide cabin and panoramic view ensures optimum visibility for both passengers and crew
Thanks to its extremely low vibration levels, the Airbus H125 (AS350 b3) is an excellent choice for tours, aerial photography, cinema or television missions. Offering multiple cabin configurations and interior finish options, this helicopter can be easily adapted to any type of mission
Our Numbers
Facts that put us ahead of the rest
Why Choose Senok Air
Unmatched excellence, experience and expertise
Experience Sri Lanka, one of the top travel destinations in the world through an unforgettable bird's eye view while maximizing your time to ensure you experience all of the vast variety of attractions & scenic terrains the island nation has to offer. Land commute in Sri Lanka through different terrains and road conditions is deceivingly time consuming though the island appears a tiny tear drop on a world map. Our 2 Airbus H125 (AS350 b3) helicopters which are designed and fabricated for ultra-comfort and luxury travel gets you to your destination quicker & safer for you can spend your valuable time making memories to cherish a lifetime !
Further, our experienced, highly skilled and knowledgeable ex-military pilots know Sri Lanka like nobody else! They are geared to give you an exclusive experience, all while effortlessly guiding your helicopter through these scenic and enchanting locations.
Senok Group of Companies
The Senok Group comprises of 38 Companies. They range from luxury automobile agencies to heavy machinery dealerships, construction of large infrastructure projects, BOO Partners in the renewable energy sector, export of Ceylon Tea. private air charter, mining, wind power, solar power, hydropower and large investments in the luxury leisure industry and more. Senok also has global presence in Japan, Africa, Europe, USA, India & the Maldives.
We deal with the largest banks like Commercial Bank, Hatton National Bank, National Development Bank and DFCC, HSBC, Standard Chartered, ADB, KFW and IFC World Bank. Senok is a privately-owned company and a pioneer in most of its businesses in Sri Lanka. We are also registered with the UNFCC under the clean development mechanism and have executed a contract with the Asian Development Bank for the sale of carbon credits. Senok has also achieved financial closures in Japan, Africa, Europe, USA, India & the Maldives. We operate on the concept of strategic business units and concentrate on each unit for achievement of its bespoke targets and goals.
The Group Brands
Kobelco
JCB
Wirtgen Group
Liebherr
Nutsfarzuege
Shinmaywa
Kato
Damen
UniCarriers
Hidromek
Hyundai
CVS Ferrari SRL
Metong
Mafi
ROHR
Rubble Master
UD Trucks
Ausa